Retail Pharmacies
Reduce out-of-pocket costs for commercially insured patients with coverage for XHANCE with the XHANCE copay card*
Out-of-pocket costs for commercially insured patients with coverage for XHANCE
Initial prescription
$0 copay
Refills
$30 copay†


per unit maximum
*
These offers are not valid for use by cash-paying patients or patients enrolled in Medicare, Medicaid, and TRICARE or other federal or state programs. Maximum benefit available per 30-day fill is two units. Optinose reserves the right to rescind, revoke, or amend this offer without notice. Visit
XHANCEcopay.com/eligibility
for additional eligibility rules and terms and conditions.
†Estimate based on DRG and plan-specific formulary data as of May 2019. Patient out-of-pocket expenses for refills through pharmacies not in the XHANCE Preferred Pharmacy Network may vary.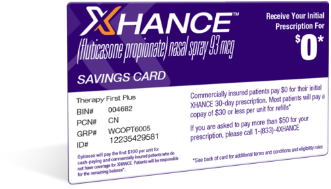 NOTICE OF RESTRICTION FOR VERMONT HEALTHCARE PROVIDERS
If you are a healthcare professional licensed in Vermont, or a licensed healthcare professional who regularly practices in Vermont, Optinose corporate policy and the terms of this program prohibit you from downloading, printing, or accepting the savings card.
Review resources for your practice and your patients.
Find specialty pharmacies that serve your area.