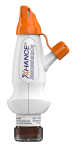 XHANCE uses an Optinose Exhalation Delivery System (EDS) that is designed to deliver medication2,3:
High and deep in the nasal passages
To regions where nasal polyps originate and sinuses drain and ventilate
When to Use XHANCE
When patients remain symptomatic after conventional intranasal steroids, choose XHANCE next in a stepped-care approach to treat nasal polyps.1
Impact of XHANCE
Hear from an allergist and an ENT, and view endoscopy footage before and after XHANCE.
Affordability
Learn more about how to reduce out-of-pocket costs* for your patients through the XHANCE Preferred Pharmacy Network (PPN) and locate the specialty pharmacies serving your area.
*
These offers are not valid for use by cash-paying patients or patients enrolled in Medicare, Medicaid, and TRICARE or other federal or state programs. Offers are subject to quantity limitations. See
XHANCE.com/terms-and-conditions
for additional terms and conditions.